all you need to know about the killed separatist leader "Abu al-Yamamah"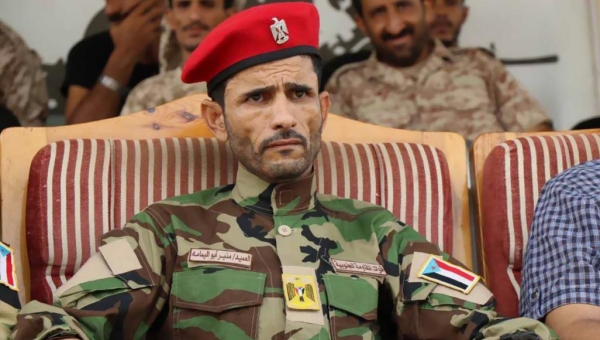 عدن نيوز - Aden News :
The southern separatist leader, General Munir al-Yafe'y, was killed on Thursday in a rocket attack by the Houthis that targeted the "al-Jala'a" military camp in western Aden, killing dozens of soldiers.
These are 10 information about the UAE-backed separatist leader:
1- Munir Al-Yafa'i was associated with the raids, arrests and assassinations. He was known for confronting the legitimate government forces. He was also known as one of the most prominent military leaders supported by the UAE in southern Yemen.
Abu al-Yamamah was born in 1974 in the Yafea district of Lahj province and joined the ranks of the Yemeni army in 1989 before graduating from high school, according to media sources.
3 – He left Yemen after the war in 1994 to Oman and then to Saudi Arabia and remained in Riyadh until 1998 and worked in the private sector.
4 – He is considered as the most prominent leader among the separatists military leaders, the commander of the first brigade "support and logistics".
His fame spread in May 2016 in the district of Mansoura in Aden with the start of night raids and random arrests. He was commander of the emergency battalion and carried out dozens of raids on the homes of resistance activists and their leaders.

He administered a secret prison for those who are forcibly hidden in Jalaa camp in Buraiqa, Aden.
7 – He participated in the confrontations at Aden airport in February 2017 against the legitimate government forces and was at the forefront of the forces supported by the UAE.
In January of 2018, he was the most prominent participants in various axes against the Presidential Protection Forces and his forces stormed the Fourth Brigade camp.

President Hadi referred him to a commission of inquiry on charges of rebellion and violations.

Al-Yafei was supervising a graduation ceremony for soldiers. He also oversaw the graduation of another 500 soldiers last week.
Al-Yafi came down from the podium to greet one of the guests, immediately before the explosion.
Source : https://www.adennews.net/?p=80962