»
Mothers of Abductees: 1496 citizen had been kidnapped by Houthis and UAE mercenaries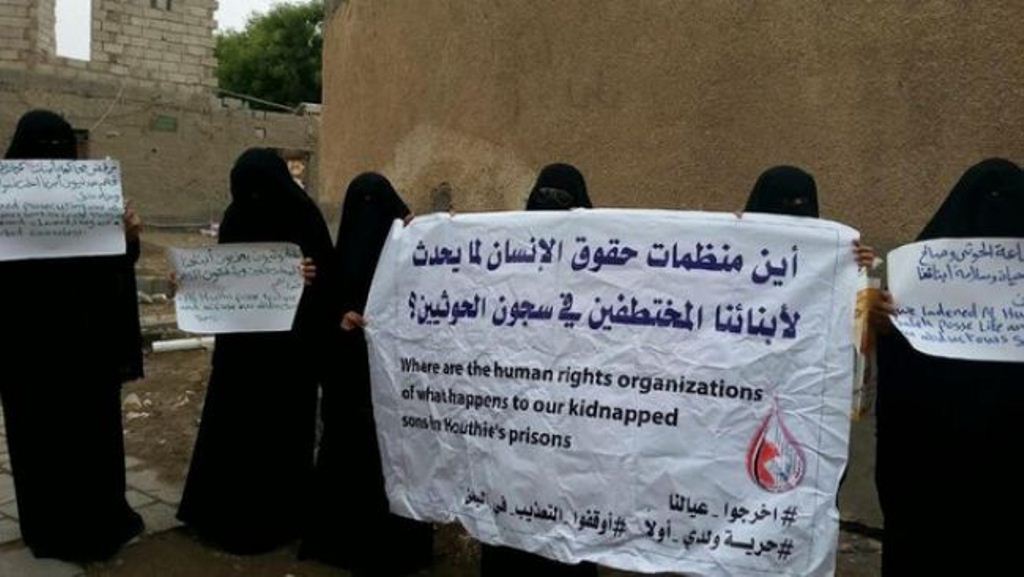 The Abductees Mothers Association said that (1496) citizen had been kidnapped in the areas of the Houthi control (north and Central) and the areas of Pro-UAE military formations southern Yemen.
The association explained that (1442) citizens abducted in the areas controlled by the Houthis, of which 114 were cases of abduction of women.
The secretariat of the capital was ranked first with 236 abductions, of whom 109 were women, followed by the province of Hodeidah, with 190 cases, including two abductions of women in the city.
The third annual report of the Association of Mothers of Abductees, on the occasion of International Women's Day indicated that 54 cases of abduction by military and security formations in the city of Aden.
The association monitored (33) campaigns of abductions and mass arrests, including 29 arrests carried out by Houthi militia in its areas of control, and (4) mass arrests and abductions by military and security formations in the city of Aden.
The report pointed out that the number of people detained in the kidnapping and mass arrest campaigns in the areas of control of the Houthis and liberated areas under the control of military and security formations loyal to the United Arab Emirates, reached 450 cases, among those abducted women and children, the association confirmed the release of 109 till the date of the report.
The Association indicated that the total number of disappearances is (294) during 2018, with 73 cases of enforced disappearance in Hodeidah, followed by Taiz and Sa'ada with (37) each.
The report stated that cases of enforced disappearance had been reported in Aden is (15), while 230 were still abducted from previous years.
According to the report of the Association, there are (28) cases of death from torture, including 22 cases in Al-Houthi prisons, and 6 cases in the prisons of the military formations in Aden.
Source : https://www.adennews.net/?p=67019