»
Clashes in Aden after the killing of Dunba (report)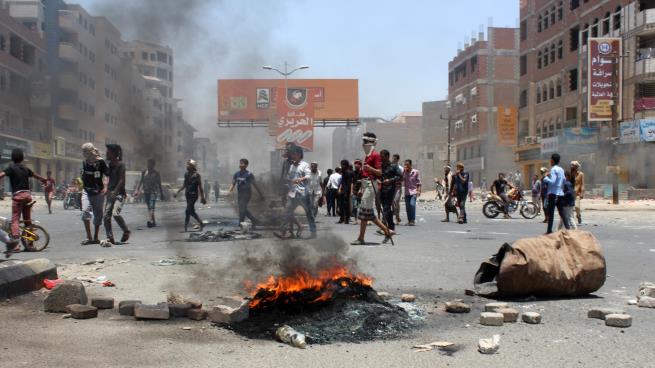 Protests against the killing of a soldier in public security by members of the anti-terrorist forces in Aden, the interim capital (south of the country) escalated On Thursday into armed clashes.
According to eyewitnesses, dozens of protesters cut off major roads in the neighborhoods of Mualla, Khor Mukas and Dar Saad. Gunmen clashed with units wearing police uniforms and security, believed to be of the security belt and the Aden police forces which tried to end the protests and reopen the roads.
Clashes broke out between gunmen and military forces in the Hajif roundabout in Al-Mualla district. Gunmen also attacked a military vehicle in the Dar Saad neighborhood, causing injuries on both sides.
In Mansoura district, gunfire was heard for minutes after military forces arrived in the neighborhood to open the road.
According to witnesses, the main streets of the city's neighborhoods are closed to traffic, causing heavy congestion in the streets that are still open.
Since the beginning of this week, the city of Aden is witnessing a public outcry following the killing of Rafat Dumba by forces led by Yusran al-Muqtari, a pro-Emiratist who has already committed several abuses against civilians.
Dumba was the only witness in the case of the rape of a child by members of Yusran al-Maqtari's forces.
On the one hand, Major General Mohammed Musaed al-Amir, head of the investigation committee, said that the committee continues its work in the investigation.
He added that "the perpetrators will be handed over this evening in accordance with the directives of the Minister of the Interior and his deputy and the agreement with the leaders of the Arab Coalition.
Source : https://www.adennews.net/?p=66457