»
UN experts report: UAE proxies in south try to undermine state authority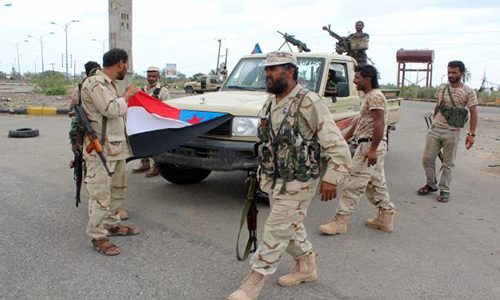 UN Panel of Experts on Yemen accused on its last report the Southern Transitional Council and military forces of engaging in "armed hostilities" against the Yemeni government, which effectively resulted in their lack of effective control over the southern provinces.
The report revealed that the head of the Transitional Council, Aidroos al-Zubaidi, "who spends most of his time resident in Abu Dhabi UAE," and the rest of the leadership of the Council, led the attack against the presidential protection forces in January last year, from inside the headquarters of the Council in the district of Tawwahi.
Aden's chief security officer, Maj. Gen. Shallal Ali, was the one who led the military forces loyal to the transitional council and the security belt, which fought military confrontations against the presidential protection forces in Aden in late January last year.
Stressing that the forces of the security belt in Aden – Abyan – Lahj – al-Dhali'e, is still operating outside the Ministry of the Interior.
The report said that there is "great opposition to the council among the majority of citizens in the southern provinces.
Source : https://www.adennews.net/?p=64073