»
protests in Taiz against UAE-backed Abu Al-Abbas brigades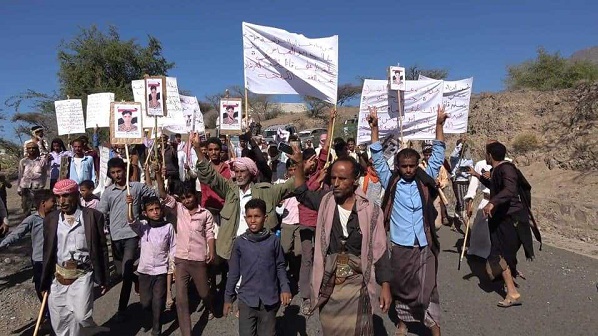 عدن نيوز – Aden News:
The residents of al-Shurajah villages in Jabal Habashi district west of Taiz had raised slogans against "Abu al-Abbas" Brigades, after the Brigades  refused to hand over the killers of the soldier Abdul Ghafur Hassan Saeed, who was brutally murdered on 26 December.
The protesters in the march held slogans against the Brigades of "Abual- Abbas" for refusing to hand over the killers to the judicial authorities to receive their punishment, due to the fact that the killing was near the headquarters of the Brigades in Ukad village, stressing that the blood of the martyr will not go wasteful.
The protesters demanded the governor of the province Nabil Shamsan and the leadership of the Taiz axis and the security services to arrest the killers immediately and to refer them to the judiciary.
Source : https://www.adennews.net/?p=58933